Dr. Edwin Wallington graduated high school from North Branch, Michigan in 1990. He then attended Ferris State University from 1990-1993, before going to Illinois College of Optometry in Chicago, Illinois from 1993-1997. He graduated with his Doctor of Optometry degree and worked with various optical companies including D.O.C., Rx&Specs, and Lenscrafters from 1997-1999, before opening Visual Eyes in Lapeer, Michigan with his wife, Dr. Sonya Wallington, in 1999.
They currently still practice at Visual Eyes. In May of 2021, Ed & his wife also started Deliver Contacts (aka DeliverContacts.com) and then "Your Eye Show" in March of 2023, an educational weblog.
Expertise
Doctor of Optometry
Optometry
Contact Lens Prescriptions & Benefits
Eye Health
---
Education
Ferris State University
Illinois College of Optometry
---
Affiliated Organizations
More from Dr. Edwin R. Wallington, OD
In addition to being co-owner of Deliver Contacts, Dr. Edwin is also co-owner of Visual Eyes in Lapeer, Michigan and hosts "Your Eye Show", an educational weblog covering contact lenses, ocular health, and all things eye related.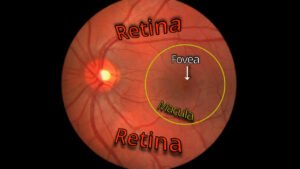 Fovea Defined The word "fovea" means "depression" or "pit". There is also a tiny point (about the size of tip of a pin) on our retina in the back of our eye (directly behind the pupil) called the fovea, because it is an area of the macula that is depressed…